The bank serves around 14 million active customers through our branch network and regional Corporate Business Centres.
We recognise that our communities, customers, employees, suppliers and the environment are all fundamental in our business and it is our priority to make sure we act responsibly and make a positive contribution to society.
Santander embraces all of our customers irrespective of age, disability, gender, marital status, pregnancy, race, religion/belief or sexual orientation. We believe that our different experiences and perspectives better enable us to understand and serve you.
Our Behaviours and Values
We know that a really positive working experience will help you to deliver our business goals. In turn, this allows you to develop and use your talents in your role to do your best every day for our people, customers, shareholders and communities.
We exist to help people and businesses prosper. Through working together as a responsible bank, generating profitable growth, we can then invest in the communities we serve. At Santander, we recognise that prosperity means different things to different people. For some people it's about money and wealth, for others it's about enjoying life's moments.
Currently we have over 14 million active customers and around 20,000 employees. We have around 800 branches across the UK with more than 40 regional sites and main offices including Belfast, Bootle, Bradford, Glasgow, Leicester, London and Milton Keynes.
Our Purpose
To help people and businesses prosper.
Our Aim
To be the best bank for our people, customers, shareholders and communities.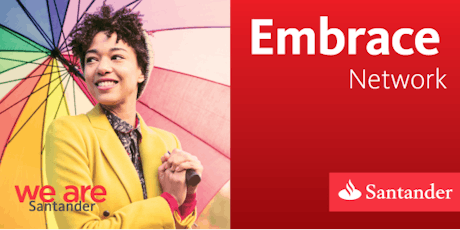 Embrace - LGBT+ network
Launched in 2014, Embrace provides a community for lesbian, gay, bisexual and transgender employees to come together to share information, personal experience, hold discussions and support one another. We want our people to feel they've got the support they need and to be part of an inclusive culture where you can be exactly who you are.
---
"For an organisation to be successful and truly prosper, we believe it is essential that its culture reflects and celebrates a diverse work force. Our sponsorship of myGwork is just one of the ways in which we are showing our commitment to the LGBT community and supporting diversity at Santander."
Head of Diversity & Inclusion, Jessica Chu