Stand Bi me? Breakfast in Best Practices on Bi Inclusion at Macquarie
Join us for a Breakfast in Best Practices – a panel discussion on bi - inclusion, with the members of the London Bisexual Network, hosted at Macquarie.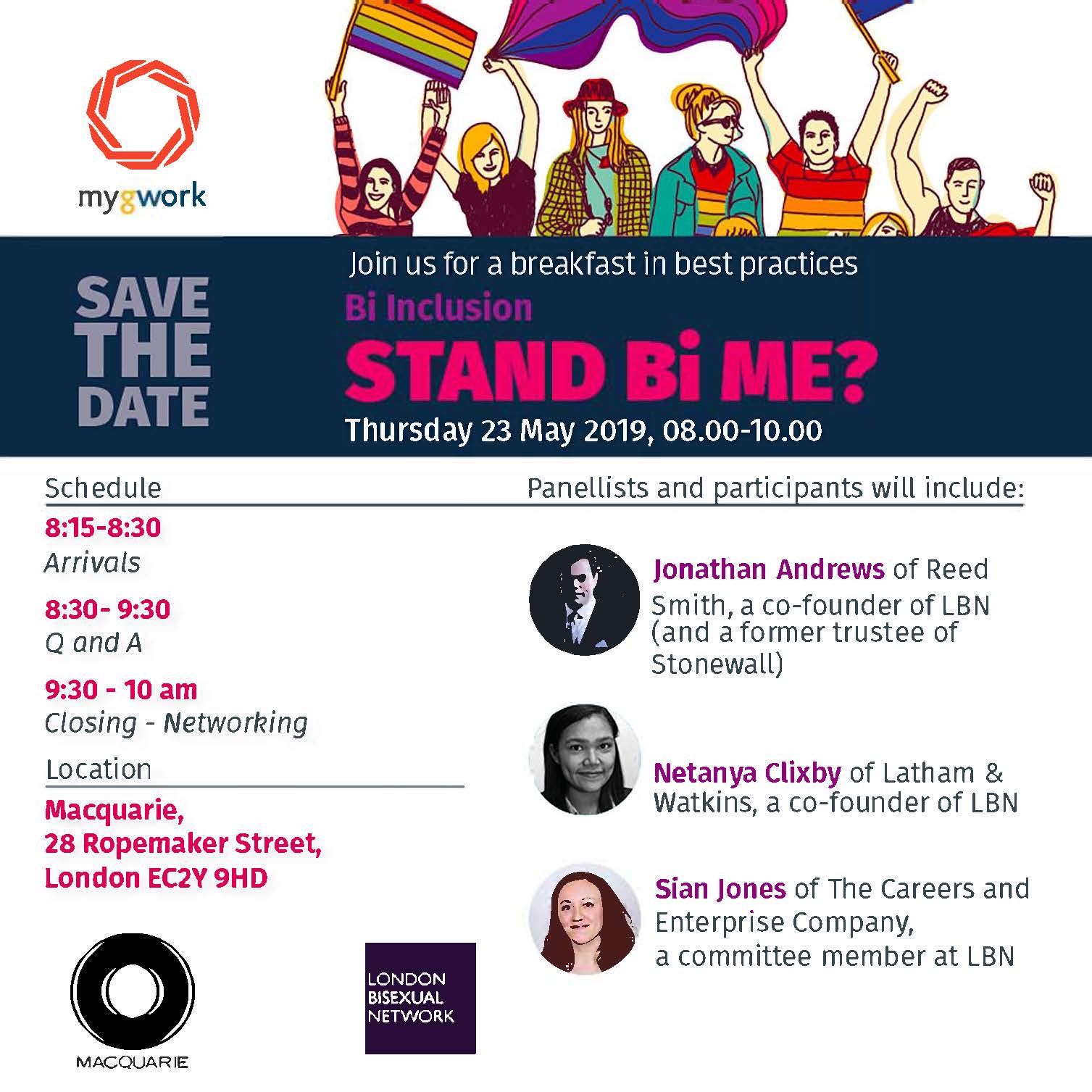 Prior to the panel discussion, an organiser of the forthcoming Bi Pride will also give a brief introduction.
The panel discussion will cover and promote understanding of:
• bisexuality as an identity, distinct from hetero and other LGBT+ characteristics
• why bi inclusion is an imperative, in and out of the workplace
• the challenges facing bi people, in and out of the workplace
• bi erasure, and how to identify and tackle it
• popular misconceptions and depictions of bi people, and their effects.
About the panellists:
Jonathan Andrews
Jonathan is a trainee solicitor at Reed Smith and sits on their LEADRS and PRISM committees representing disability and LGBT+. A co-founder of the London Bisexual Network, he is also the youngest-ever person to be a trustee of Stonewall. Jonathan is also a member of the Law Society's Equality Committee and is committed to ensuring everyone in the workplace can be themselves and that issues such as bi erasure and biphobia are tackled. He co-founded and sits on the diversity forum of Bauer Media, 'Belonging at Bauer', and is an Equality Leader at Mind, where he focuses on ensuring the higher rates of mental health often faced by bi people are recognised and supported.
Netanya Clixby
Netanya is an Associate at Latham & Watkins in the Derivatives and Structured Finance team. Netanya is a co-chair and co-founder of the London Bisexual Network, as well as a committee member of the Law Society's LGBT+ Lawyers Division.
Sian Jones
Sian is a Senior Product Manager at the Careers and Enterprise Company, working on a range of digital products; previously she worked in Accenture's Digital division. She has been on the London Bisexual Network's committee for several years, and was previously Bisexual Rep at Accenture.